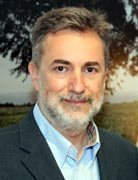 Tasos Giavroutas was born in Mouzaki Karditsas in March1964.
A graduate of the Mouzaki Lyceum, he studied journalism in Italy at the University of Urbino, (Università degli Studi di Urbino Carlo Bo).
After completing his military service in Greece and Cyprus he joined the newspaper O Agon in May. In 1992 he took over as news editor of the magazine Enimerosi.
He has been working at the Phileleftheros group since 1998. In 1999 he became news editor of the magazine Selides, and later editor.
In 2001 on the instructions of the publisher, he headed efforts to take the Philelefheros group into the electronic media and, on the launch of the web page www.philenews.com, took over as editor. In parallel, in 2002 he became editor of the IT magazine RAMcy.
After attending seminars on IT and through his experience with RAMcy, he took over as IT manager of the group in 2003.
He is married to Elli Papamichail and has one son, Andreas-Timoleon. Back