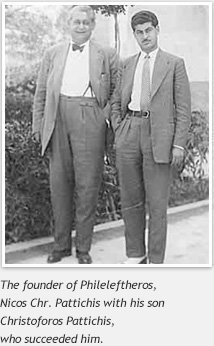 Phileleftheros is deeply rooted in the history of the Cyprus Press. Its roots go further back than December 1955, when the very first issue was first published. The Group's founder, Nicos Chr. Pattichis, had made several attempts to launch a daily newspaper, beginning in 1932 when he was just 24 years old and having just completed his studies.
The first newspaper
The first newspaper published by Nicos Chr. Pattichis along with other associates, Imerisia Nea (1932) was pioneering for its time. Nicos Chr. Pattichis had just returned to Cyprus after completing his studies at the Law School of the University of Athens, as well as the ESIEA School (Athens Association of Daily Newspaper Journalists). While in Athens, he worked as a journalist gaining valuable experience. He was initiated into the democratic principles of the Press, namely transparency, pluralism and independence from political, state or other interference. Coming back, he took full advantage of his experience and knowledge so as to become the first publisher of a viable daily newspaper in Cyprus.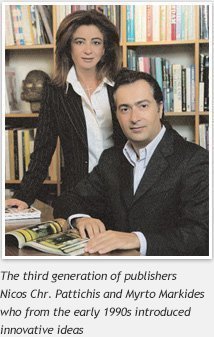 Imerisia Nea (Daily News)
On its title page, the newspaper called itself the Pancyprian Independent Daily Newspaper. The first eight-page issue – all later issues were four pages – proclaimed the principles upon which Imerisia Nea was based, while various other columns were featured in the paper, such as vignettes, verse, columns of social and commercial interest, police news, photojournalism, political analysis and features. Even though two weeks after it was first published the paper announced on its front page that it was the top circulation newspaper, the whole attempt came to an inglorious conclusion because of financial disagreements between the manager and the editor. In the same year, 1932, Nicos Chr. Pattichis launched Kathimerina Fylla, publication of which was soon suspended. The next year he started publishing Imerisios Tilegrafos (Daily Telegraph, 1933), which lasted only six months. The longest running newspaper proved to be Esperini (Evening Paper, 1937-1951), Cyprus' first daily evening newspaper, which set new standards for the local press. Fourteen years later, Erasmos Aristophanous took over the newspaper changing its name to Nea Esperini (New Evening Paper) as from Monday, June 4, 1951, when Aristophanous is henceforth mentioned on the title page as the manager-owner. The last paper published under Nicos Chr. Pattichis' management was on May 28, 1951.
Founder of Phileleftheros Nicos Chr. Pattichis
After leaving Esperini, Nicos Chr. Pattichis kept himself busy with other activities. One of these was organising the first Trade Fair in 1953, which later developed into the Cyprus International Fair. But this was just a breathing space, before returning to the world of publishing to realise his vision of publishing a modern daily newspaper.