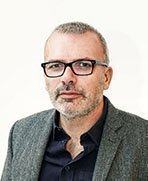 Stavros Christodoulou was born in Nicosia in 1963 and studied law at the University of Athens. He started writing articles for Embros newspaper, but his first position as a professional journalist was with the weekly magazine Selides, which he joined at the beginning of 1992.
His next professional step was the launch of the monthly magazine Omikron in 1996, of which he was the first editor. He moved to Athens in December 1999 where he initially worked as head of communication for Laiki Greece and then, for several years cooperated with the Nova platform and the magazine Elle.
He was director of the weekly magazine Time Out Athens, while for a short time before returning to Cyprus was Publication Advisor of City Free Press. In September 2006 he took over as Magazine Manager for the Phileleftheros group, a position he held until March 2013.