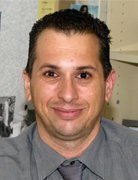 Renos Onoufriou was born on May 15, 1966 in Limassol where he grew up.
After completing his military service he studied in Cologne, Germany (1986 – 1993) and at Phillips College in Cyprus (1993 – 1994) where he received a BA in Economics and Business Administration.
From 1994 to 2000 he was deputy manager of Alpha Trading & Shipping Agencies Ltd in Saudi Arabia. Alpha Trading & Shipping Agencies Ltd is a food import company with annual sales exceeding €800 million.
Since March 2000 he has been Sales and Marketing Manager at the Phileleftheros group, responsible for supervising for advertising in the group's newspapers, magazines, web sites and radio stations.
He is married and has two children; Constantinos (aged 17) and Christina (aged 15). Back