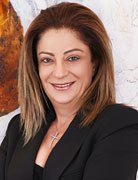 Myrto Markides was born in Nicosia. She attended Kykkos Lyceum before pursuing undergraduate studies at the University of Boston in the United States from 1982 to 1986 where she obtained a Bachelor of Arts in Economics and Business Administration. She continued her studies from 1986 to 1987 at London's City University where she obtained a Master of Arts in journalism.
On completing her studies in 1987 she started work at Phileleftheros newspaper, initially as a feature writer and then as a finance correspondent, playing a leading role in the launch of the newspaper's financial section. A few years later, she took over as Assistant Editor in Chief of the newspaper. In 1995, she made the transition from journalism to management, first as General Manager of the company and since 2007 as Chief Executive Officer of Phileleftheros Print and Multimedia Group, a position she holds to this day.
During her professional career, Phileleftheros has grown from a 12page newspaper to the biggest media and publishing group in Cyprus. Its titles include the three biggest circulation newspapers (Phileleftheros, The Cyprus Weekly and Goal), 8 magazines (including Hello, Down Town, Omikron, Synthesis, Life, TV Mania, Taste, and Chryses Syntages), 12 web sites (including philenews.com, like.com, InCyprus.com, goal.com.cy, Cyprus-is.com and others) three radio stations (Sfera, Kiss and Active), a series of specialized publications on culture, education and the history of Cyprus and a stake in the paper import firm H & A Paper Ltd, at the printing company PROTEAS PRESS and at the Publishing company N & M Mediamorfosis Ltd.
Myrto Markides is the granddaughter of the founder of Phileleftheros, Nicos Pattichis and one of the main shareholders and a member of the boards of Phileleftheros Media Group Ltd and N & M Mediamorfosis Ltd. She is vice president and co-owner of the printing company PROTEAS PRESS and a member of the board of H &A Paper Ltd. She has one daughter, Myrna. Back