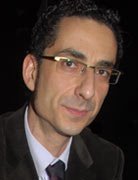 Michalis Karis was born in Athens in 1969 to Cypriot parents. He studied business administration and economics at the University of Piraeus. He continued his studies at Salford University of Manchester when he obtained an MSc in Corporate Finance. He is member of the Chartered Institute for Securities and Investment (CISI), with specialization in International Wealth Management.
He worked as senior manager in the audit and business assurance division of Arthur Andersen (1995-1999), as senior equity research analyst and senior investment consultant at Alpha Finance (1999-2000), and from June 2000 to December 2007 he was initially (2000-2004) financial and later (2005-2007) general manager of the Greek publishing company Imako Media.
He has held the position of general manager of Philelelftheros group since 2008. He is a member of the board of Phileleftheros Public Company, Proteas Press, Kronos Distribution Agents, H&A Paper Trading, Cyprus Weekly and MA&CA Entertainment.
He is a member of Greece's economic chamber and several other institutions and organisations abroad that deal with macroeconomic analysis and projections of currency fluctuation. He is also a member of international fora on the mass media.
He is married to Elli Margaritides and has two children, Anna and Christos. Back